This was my first time doing a trek like this, my first time in a tent and my first time in a sleeping bag on the ground. While I got some things right with packing, I also got some things incorrect. Below is a list of what I would now recommend in hindsight to anyone thinking about doing Kilimanjaro.
Buy a water bladder
Bar freezing on summit night, my water bladder was excellent. Make sure it has a lid as it will get dusty otherwise – I used platypus and while it was good they can be overpriced and don't come with a lid as standard (so you have to buy it separately). Water bladder takes 2 litres, they have 2X 1 litre Nalgene's and that should be loads
Bring plenty of snacks for each day
Nuts and jellies, bars that sort of thing. Keep your favourites for summit night, everyone shares their snacks also which is cool.
Have a full set of gear with you in your carry on luggage
In case your check in luggage gets delayed or lost in transit, have a full set of gear on you/in your carry-on bag. I wore light trek pants on plane along with my actual hiking boots. I brought a set of t-shirts/jocks/socks/rain jacket and pants on the plane with me.
Hydrate
Drink water, try and take your most consumption wise the day before the night of the summit attempt – I think the hydration helps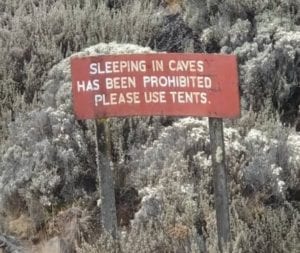 Practise camping at home
Ok this next one is for someone if you're like me (i.e. never slept in tent/sleeping bag before) – practise at home/out the back before the trip to get used to it. Trust me, it will help as it was a bit of a culture shock for me on the first night! But was great after initial baptism of fire.
Bring a pillow
Bring your own pillow if possible (or borrow a couple from the plane journeys). Sleeping well is key – I didn't sleep much but would imagine more sleep is better than less sleep.
Be inventive
Most camps are on a slope, you are provided with a sleeping matt and most people bought a blow up thermarest thingie – place thermarest thing under matt and place sleeping bag on the matt – this helps with the sliding (thanks Doc for this piece of investigative engineering)
Keep an eye on your hygiene
Hygiene is important to keeping well. Diamox makes you pee a lot. Use hand sanitizer liquid whenever you can – I think 150ml is plenty for entire trip, so that's 3 X 50ml small bottles as an ideal quantity.
Use SPF lip balm and Vaseline
You have to use SPF lip balm, lips will dry out and crack at altitude/higher temperature. Also bring a small tub of Vaseline to use on lips and also at sides of nose, as this area gets dry and lots of us experienced this. Factor 30/50 sun cream is perfect – you will use a lot of this, in particular if going in hot months (we went start of October).
Bring light buffs
Bring 3 or 4 light buffs, very handy to cover head and neck as well as using as a dust mask. These are vital to bring, easy to wash and dry, also as light (mountain is dusty, safari is dusty, Arusha is smoggy so very handy here)

Take Diamox
Take Diamox which helps to prevent altitude sickness. From research and personal effect it's worth taking – wouldn't it be a killer to not take it, then not make it up the mountain and then there would be a niggling feeling "maybe if I took a recommended drug, then maybe I'd have made it?"
Avoid mosquito bites
Didn't get any mosquito bites, I used a 99% deet based spray which I can recommend. I also took Vitamin B and Garlic supplements for a month before I went – they can't hurt as they have other health benefits also.
Get your Berocca Boost
Bring like a tube of berocca or electrolytes with caffeine, or those type of Vitamin C effervescent drinks to give you a pep when you need it!
Check out Earth's Edge
I did a lot of research on who to do Killi with. For me, Earth's Edge came out on top with social media presence and people I knew who used them. The reviews are positive and I have to concur. If I do Elbrus next year I will definitely use Earth's Edge. I see no reason to try someone else when I have experienced their formula first hand and it works!
Bring some entertainment
A deck of cards! Or some old school form of entertainment
Don't forget these essentials
Charge pack for your phone and head torch
Useful Phrases/Songs for Kilimanjaro Trek:
Karibu – Come in/Welcome
Pole Pole – Slowly Slowly
Habari – How are you?
Asante Sana – Thank you very much
Simba – Lion
Awwwaaaayyyyyy – (say it loud and elongate the phrase)  just something we would chart in unison when someone started it – apparently it was the Irish group that were on the mountain a couple of weeks before us that started it and it stuck, very funny!
Ugali – a thick maize based porridge the porters love to eat, it's usually eaten with "Beef Sauce" (what we would cause beef stew in Ireland)
ABS – Always be Sippin (Important to keep drinking on the mountain to prevent Altitude Sickness)
Sippy Sippy – another phrase to remind all to keep drinking water
Washy Washy – Every morning, you would get a small basin of hot water, was amazing and would use it for "Washy Washy"
Jambo -Hello
Chants: "One Team, One Family, More water, More coffee" – whereby each part is said by a porter and then repeated by the group!
"Notorious" Just chanted like that
Jambo Bwana
Kilimanjaro song – Really catchy – Youtube link here,  and words here. Knowing this in advance of trek will make you a firm favourite with the porters 😊
Andy Nolan Kilimanjaro Series Guide: